Zot
Back in the good old days you could drop into the local record shop and pick up an album from a band with a weird name...and it would be great. The self entitled Zot album by the band named Zot was one of those great finds of the 80s.
---
Randy Wayne: Vocals, keyboards
Patrick Knowles: Guitar, vocals
Chris Stewart: Drums, vocals
Bryant Simpson: Bass, vocals
others:
Tom Calderaro: Keyboards, arranger
Andy Thomas: Synth, PPG
Eric Merienthal: Saxaphone
Dave Diamond: Synth
---
Recent Entries
Chris, Randy and Pat - Easter 1985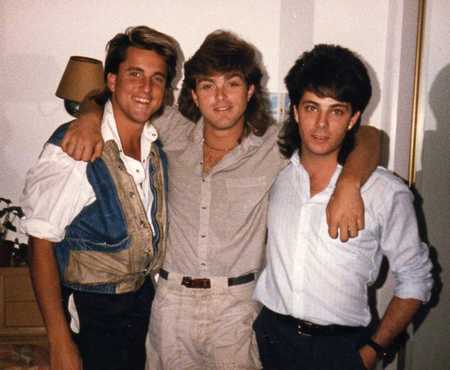 This photo of Chris Stewart, Randy Wayne and Patrick Knowles was taken by Andy Thomas around Easter 1985.
Posted by Bill at July 13, 2008
On stage at Costa Mesa in 1985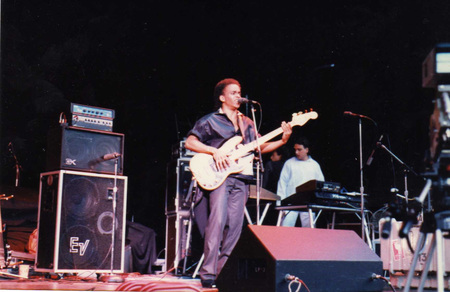 Andy Thomas sent me this 1985 photo of Bryant Simpson on stage with Andy Thomas and Tom Calderaro in the background. This is Zot at Costa Mesa.
Posted by Bill at July 13, 2008
Air Diamond
I heard from Andy Thomas recently and he pointed me over to Dave Diamond's new website. Dave's doing a lot with 3D graphics and flight instruction. Here's a snippet from his About page:
At age 10, Diamond had his heart set on becoming an airline pilot. "There was just nothing cooler to me than a pilot," recalls Diamond. But FAA regulations require that pilot applicants be 17 years or older. "I wanted to fly, but I knew it wasn't going to happen any time soon. So I focused on my second love: music. There was no FAA regulation preventing a 10-year old from becoming a rock star!"
Seven years later Diamond found himself a founding member of the 1980s rock group Berlin. During the band's first tour he experienced flight in a small airplane for the first time.
"We were staying in a hotel in East Lansing, Michigan," recalls Diamond. "The hotel's bartender was also a flight instructor, which I found to be a curious combination of careers. He invited me to fly with him." Then 17, finally old enough to earn his wings, Diamond was without the time to complete the training. "Being a rock star can really eat into your day," jokes Diamond.
Posted by Bill at May 23, 2008
Chris Stewart - Drums
Hi Everyone,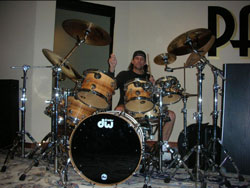 Hope everyone is doing great! I've been busy with my drumming, music and recently artwork. In the 90's I was in a band called
Modern Faith
(an alternative band) and played in the O.C. and every spring break in San Felipe, Mexico and every year at grad nights at Disneyland with the band
No Doubt
(1995, 1996). In early 2000 I played with
John Crawford
of
Berlin
and did a CD. For the following three years played with a punk rock band called
El Centro
. We toured the
Warp Tour
with such bands as
Blink 182
,
Sublime, Incabus, Bad Religion
and
Jane's Addiction
and
Green Day
. (Blink also put my name of their
Enima
CD)
Continue reading "Chris Stewart - Drums"
Posted by Bill at February 8, 2008
The Uranium Video
The 20+ year wait is over. I have for you here Zot's video for the song Uranium.
Recorded on November 12, 1984, the Uranium video made it into heavy rotation on MTV during the summer of 1985 for a short time.
Continue reading "The Uranium Video"
Posted by Bill at July 10, 2005
---
A fellow Zot fan, Jeff Baker, found an ancient post I made about Zot on the New Wave Outpost's Music Videos Wish List when I was looking for Zot's "Uranium" video. Jeff was kind enough to mail a Zot CD all the way to Japan. He made a very good copy of his Zot album as my cassette tape had bitten the dust years earlier. He also sent me the picture and news about Patrick Knowles. Thanks Jeff.
Do you have any news, info, images, audio or video of Zot? Send me a message from my contact form and help me add to this site.