Where are they now?
Air Diamond
I heard from Andy Thomas recently and he pointed me over to Dave Diamond's new website. Dave's doing a lot with 3D graphics and flight instruction. Here's a snippet from his About page:
At age 10, Diamond had his heart set on becoming an airline pilot. "There was just nothing cooler to me than a pilot," recalls Diamond. But FAA regulations require that pilot applicants be 17 years or older. "I wanted to fly, but I knew it wasn't going to happen any time soon. So I focused on my second love: music. There was no FAA regulation preventing a 10-year old from becoming a rock star!"
Seven years later Diamond found himself a founding member of the 1980s rock group Berlin. During the band's first tour he experienced flight in a small airplane for the first time.
"We were staying in a hotel in East Lansing, Michigan," recalls Diamond. "The hotel's bartender was also a flight instructor, which I found to be a curious combination of careers. He invited me to fly with him." Then 17, finally old enough to earn his wings, Diamond was without the time to complete the training. "Being a rock star can really eat into your day," jokes Diamond.
Posted by Bill at May 23, 2008 | Comments (0)
Chris Stewart - Drums
Hi Everyone,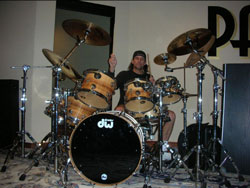 Hope everyone is doing great! I've been busy with my drumming, music and recently artwork. In the 90's I was in a band called
Modern Faith
(an alternative band) and played in the O.C. and every spring break in San Felipe, Mexico and every year at grad nights at Disneyland with the band
No Doubt
(1995, 1996). In early 2000 I played with
John Crawford
of
Berlin
and did a CD. For the following three years played with a punk rock band called
El Centro
. We toured the
Warp Tour
with such bands as
Blink 182
,
Sublime, Incabus, Bad Religion
and
Jane's Addiction
and
Green Day
. (Blink also put my name of their
Enima
CD)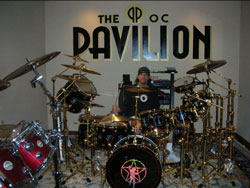 In 2003 my manager was killed and my singer was seriously injured in the terrorist bombing in Bali that killed over 230 people. I was supposed to go but decided not to. To this day, I don't know why I didn't go but the Holy Spirit was watching over me. My singer was all over tv and the newspapers describing the carnage that ensued. It was a very difficult time. The band broke up because of this.
Today I am teaching drums and doing studio work with different artists. Currently, I am in pre-production for a drumming instruction CD--called Touch--so watch out for it! There will be music too!
Also, I thought all of you should know, in the near future I am re-releasing the ZOT album to a CD with the old classic ZOT look but with a few new things. It will be dedicated to Patrick Knowles, my friend forever and I still love and miss him very much. He was and still is my favorite guitarist.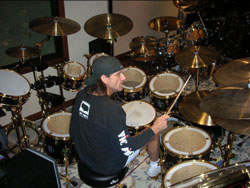 Hey Bryant and Randy if you are reading this--get in touch with me!
PS I will send ZOT pictures and some of my artwork soon.
God Bless,
Chris Stewart
---
Chris's artwork
Click the image to see a larger version.
Posted by Bill at February 8, 2008 | Comments (20)
Bryant Simpson - Bassist
versatile (vur.se-tel) adj

1. Capable of turning competently from one task to another.
Versatile is the word that best discribes bassist, Bryant Simpson.
Born in Los Angeles, Bryant's musical career began in Fullerton, California, the birthplace of the Fender bass. He was always enamored with the sound of the bass, but it wasn't until high school that he got the opportunity to explore his musical desires, when his father bought Bryant a bass to keep him out of trouble. From that moment, he was hooked! He then moved on to Fullerton College and for the next 2 years played electric and acoustic bass in their award winning jazz ensemble under the direction of Terry Blackley and Jim Linnahon. After graduating, Bryant began studying privately with MIT staff bassist and jazz veteran, Luther Hughes and bass virtuoso, John Pattitucci, while maintaining steady work in the Orange County area Top 40 scene and as a member of the jazz quartet "Blueprint", featuring Ron Kobayashi. Although his roots were in funk, R&B and jazz, Bryant also had a love for rock music and in 1982 he joined the local Orange County rock group ZOT. Adding his funky groove with their modern rock edge proved to be a winning combination and the group was soon signed to Elektra/Asylum records. They enjoyed brief success until the group disbanded in 1985.
This began a virtual avalanche of performing and recording with artists from a vast variety of musical genres including Maria Conchita Alonso, Lindsey Buckingham, Terry Bozio, Duran Duran's Andy Taylor, Sex Pistol Steve Jones, producers, Roy Thomas Baker (Queen, The Cars), Keith Olson (Fleetwood Mac, Ozzy Osborne), Pat Moran, (Robert Plant) and many others.
1987 marked Bryant's return to the jazz scene as a member of B-Sharp, a trio which featured the late Jeff Buckley on guitar who would later enjoy a successful solo career. The following year Bryant began a two year stint with jazz saxophonist/Blue Note recording artist Karl Densen and he continued performing and/or recording with artists in the jazz and R&B world include Big Jay McNealy, Jimmy Witherspoon, Miki Howard, Rashaan Patterson, Herman Riley, Colour Club and the Derek Bordoux Group, just to name a few. He also worked with Contemporary Christian artists, BASIX, Joe Nathan and various LA area choirs. He even had a 4 season run with the Los Angeles Rams Big Band! These days, you can find Bryant performing just about anywhere in and around Southern California.
Bryant believes that God has blessed him with a gift and a love for all kinds of music and that his versatility allows him to supply good creative, .bottom line. bass wherever it is needed.
MAIN EQUIPMENT
65 Fender Jazz Bass
John Carruthers 5 string
Pedulla fretless
1940's German upright bass
SWR, Eden and Walter Woods Amps
A SELECTED DISCOGRAPHY
With Zot . ZOT (Elektra/Asylum)
With Lindsey Buckingham . GO INSANE (Elektra Asylum)
With Rashaan Patterson . LOVE IN STEREO (MCA)
With J.R. Lewis . ONCE (RCD)
With Andy Taylor . AMERICAN ANTHEM soundtrack (Atlantic)
With Basix . TODAY and BASIX LIVE
If you'd care to contact Bryant Simpson please send a message to the webmaster of this site.
Posted by Bill at April 10, 2005 | Comments (1)
Patrick's passing mentioned in friend's blog
I found a blog posting by one of Patricks friends, Michael Brindley, that mentioned Patrick's passing and had a picture.
This photo appears to be from Patrick's high school days.
Posted by Bill at March 2, 2005 | Comments (0)
Memorial Service for Patrick Knowles
I received the following from Patrick's sister who asked me to post this information. If you need to get in touch with her I will relay any messages you might have. Please use my contact form.

---
Hi, I am Patrick's sister Elizabeth. I didn't know about your website until tonight. I am quite overwhelmed. Details regarding Patrick are as follows:
To my friends and family,
We are going to have a memorial service for Patrick at the below locations, as this was the church that Patrick and I grew up in as children and where Patrick taught Sunday school as an adult with Mary.
Community United Methodist Church
Date: Saturday, February 12, 2005
Time: 1:00 pm
Located at: 6652 Heil Ave, Huntington Beach
Phone: (714) 842-4461
Services will be given by Pastor Mike Aggleston
God Bless..
Thank you for your commitment to the group and for keeping the name alive. Do you have articles published about Zot? I would be interested in what information you have gathered over the years. Thank you!
Elizabeth Reynold aka Elizabeth Knowles
---
If you would like to post a message about Patrick please use the form at the bottom of this page:
Patrick Knowles R.I.P.
Posted by Bill at February 9, 2005
Patrick Knowles R.I.P.
I received some very bad news today.
I don't have many details, but I received a couple of messages today saying that Patrick Knowles passed away on February 3, 2005, and that a memorial service will be held in California at a soon to be determined date.
I have heard that Patrick was very sick, and suffering from an old injury to his back. I'm afraid that I don't have any more information than that at the moment.
It's hard to know what to say...I'm pretty shocked to hear this. Just back in October I was hearing about the possibilities of a Zot reunion, and now this tragic news.
I know that Patrick will be sorely missed. Whenever I heard from anyone even remotely connected with the band they all asked about Patrick first. Although I never knew the man, I do know that his talent was considerable and that he certainly had a charisma that drew others to him.
Patrick, I'm just an old Zot fan living in Japan, but you and your music made a big impression on more people than you may ever know. The first mail message I ever got concerning the Zot page was from one of your co-workers who told me that you'd seen the page and you'd got a kick out of it. I'd always hoped that someday I'd have the opportunity to get in touch with you and ask you more about your music, but unfortunately that won't be possible now. You were too young to leave us Patrick.
Thank you for all the great music and memories!
Posted by Bill at February 5, 2005 | Comments (25)
David Diamond "Pop Star" Interview
I found an interview of David Diamond over on the Berlin website in which he mentions his participation in Zot. The interview was conducted by a student in April 1994 for a music industry class.
Here are some excerpts:
MR: How did you get involved with Berlin? Were they friends of yours?
DD: No. I was playing in a local band that actually went on later to get a deal with Elektra called Zot. We went one night to a place in West Hollywood called Flippers, which is no longer there. It was one of those roller-disco's (laughs). Anyway, there was this band playing there called Null & Void, and they were really noisy and very experimental, while Zot was a very commercial pop band like Styx, SuperTramp, and those other tired bands that seemed to appeal to so many blonde beach types. I made some comment about how innovative Null & Void was. So, the singer for Zot, whom I never got along with anyway said "Why don't you join them?" Well just as he said that, I realized that I knew someone on Null & Void's crew and so I went over to say "hi" to him. He made some comment about the fact that they were about to fire their bass player. I said "Well, you know what, I'd like to audition." So, the very next week, I got a call from them and went to audition.
Read the full David Diamond interview on the Berlin website.
Posted by Bill at January 21, 2005 | Comments (4)
Andy Thomas website
Zot member Andy Thomas who contributed with synth and PPG programming has a website of his own at progrotech.com. Here's a blurb from his biography page:
At Rockfield Studios a Californian band by the name of Zot were finishing off an album project for Elektra with producer Pat Moran who had bought a Waveterm system from me. I spent nearly every weekend of that summer adding pads and textures to the album and was given an open invitation to stay with singer Randy Wayne. more on Andy's site...
Posted by Bill at September 12, 2004 | Comments (0)
Update about Randy from Tom Calderaro
In addition to keyboard work for Rod Stewart Randy also co-wrote the a single with Rod Stewart and Bryan Adams & Jim Vallance (I think it charted very well)
ANOTHER HEARTACHE
(B. Adams, J. Vallance, R. Stewart, R. Wayne)
Also I think I remember Randy doing a keyboard session for Dave Mustaine and Megadeath after returning to L.A. From England.

Randy, Pat, Chris and Bryant also worked on the score for the Emilio Estevez film "That Was Then, This Is Now" They did some underscore and songs. Randy co-wrote the title song with, I think, Holly Knight and sang it, again I think with Holly-not sure.
Posted by Bill at June 21, 2004 | Comments (0)
e-mail from Andy Thomas
What a discovery. I am listening to the CD of ZOT featuring my (poorly credited) contributions on the PPG Waveterm and Wave 2.3 sampling/synthesis system. I enjoyed the company of ZOT members, playing around Orange County summer 1985. I have some pics of the support slot for Culture Club at Costa Mesa's Pacific Amphitheatre. I now live back in Wales, UK.
Cheers and please get in touch and send my best to Patrick Knowles.
-Andy
Posted by Bill at June 16, 2004 | Comments (1)
e-mail from E. Hostetter
Pat Knowles (Zot) went to my high school. I remember seeing Zot perform onstage at our school's talent show. They were a three-person band at the time, adding bass player Simpson months later.
While some of us made snide remarks for their wearing makeup, they were clearly the best performance of the night and brought many of us back to the 2nd show the night after. I remember listening on a Walkman to Pat's brother's copy of their 3 or 4 song demo tape between classes at school.
"Zot" remained a part of the community (Huntington Beach, CA) for years after the band broke up. An old water tower bore the "Zot" logo - a publicity stunt of theirs - in an attempt to get the word out about the band and sell records. Unfortunately, the graffiti lasted longer than the band did.
I still have a copy of the LP somewhere. Seeing this site makes me want to find it and take it for a spin again, if only to take me back to those days.
Something I forgot to mention about Zot...I believe Dave Diamond (of Berlin fame) played with Zot, prior to Zot's deal with Elektra.
Can't be sure if it's the same Zot, although the timeframe would be about the same (early 80's).
-E
Posted by Bill at March 7, 2004 | Comments (0)
Where are they now?
Good question. It looks like the members of the band went their separate ways after Zot's short lived success. Randy Wayne shows up in the credits of a few Rod Stewart albums playing Keyboards. I saw Bryant Simpson's name on the credits of Lindsey Buckingham's album "Go Insane" playing bass. Patrick Knowles, who was responsible for a lot of the arrangements of Zot's music is now managing a store for the world's largest home organ retailer. He reportedly spends his days playing big band music for retirees and then selling them expensive organs.
Patrick Knowles


Photo courtesy of Michael Cooney
Posted by Bill at January 11, 2003 | Comments (5)