« The Uranium Video | Main | Air Diamond »
Chris Stewart - Drums
Hi Everyone,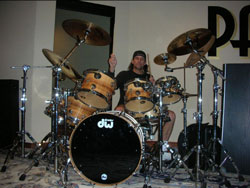 Hope everyone is doing great! I've been busy with my drumming, music and recently artwork. In the 90's I was in a band called
Modern Faith
(an alternative band) and played in the O.C. and every spring break in San Felipe, Mexico and every year at grad nights at Disneyland with the band
No Doubt
(1995, 1996). In early 2000 I played with
John Crawford
of
Berlin
and did a CD. For the following three years played with a punk rock band called
El Centro
. We toured the
Warp Tour
with such bands as
Blink 182
,
Sublime, Incabus, Bad Religion
and
Jane's Addiction
and
Green Day
. (Blink also put my name of their
Enima
CD)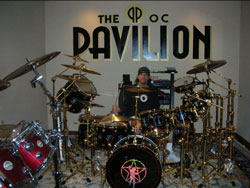 In 2003 my manager was killed and my singer was seriously injured in the terrorist bombing in Bali that killed over 230 people. I was supposed to go but decided not to. To this day, I don't know why I didn't go but the Holy Spirit was watching over me. My singer was all over tv and the newspapers describing the carnage that ensued. It was a very difficult time. The band broke up because of this.
Today I am teaching drums and doing studio work with different artists. Currently, I am in pre-production for a drumming instruction CD--called Touch--so watch out for it! There will be music too!
Also, I thought all of you should know, in the near future I am re-releasing the ZOT album to a CD with the old classic ZOT look but with a few new things. It will be dedicated to Patrick Knowles, my friend forever and I still love and miss him very much. He was and still is my favorite guitarist.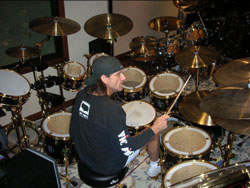 Hey Bryant and Randy if you are reading this--get in touch with me!
PS I will send ZOT pictures and some of my artwork soon.
God Bless,
Chris Stewart
---
Chris's artwork
Click the image to see a larger version.
Posted by Bill at February 8, 2008 9:46 AM
Comments
Chris,
Its Brenda.. get in touch with me. Nathaniel is now 2.5 year old and you promised that someday you would teach my kids to play the drums.
Love you tons and hope you are Happy, Happy, Happy,
Brenda
Posted by: Brenda at August 26, 2008 7:09 PM
Chris Stewart "Rocks" He is the best Drummer Ever!!!!!!!!!!
Posted by: Anonymous at September 5, 2008 12:13 PM
Hey Chris. We used to go Lincoln Jr. High together, we were 2 of 3 drummers at the school. Remember your Moby Dick solo in the auditorium on your clear Ludwigs in 7th or 8th grade? Also your Deep Purple style band played at lunch a CDM HS? hey it's been 30 years now!
Haven't seen you since those days, I am up in Portland, Oregon now. Still playing drums and working at a jazz/blues radio station.
Just thought I'd say hi. Hope all is well!
JD
Posted by: J Doebke at November 10, 2008 12:36 PM
Hey Chris!
It's your cousin Hugh. I had a little boy last July. His name is Erik Irie Stewart. Got divorced from Erin and married Mary. Send me an email and let's get together sometime soon.
Peace
Posted by: Hugh Stewart at January 13, 2009 11:26 AM
Hi Chris,
It's me, Michele. I remember the first time we met, it was after a motocross event, around 1884. You were with Ron and a couple of other people in the Stadium Motorsports van. We had a few dates, renmained good friends, and i fell in love with your brother. Lost touch with Ron after moving out of the O.C. and I think of all of you guys often. I have been keeping up with the Zot Website and was excited to see that you are doing great and still drumming and performing. Would love to catch up. Haven't spoke with Lisa in years, either. Wer lost touch about 10 years ago.
Love and memories.
Michele
P.S.
My daughter is a singer and performs. She plays Huntington Beach next month. i will be there, too! What is Ron up to???
Posted by: Michele at January 17, 2009 6:29 AM
Chris,
It has been a long time since we've been in touch. The last time I saw you I think was around 1983. I live here in Orange County. Send me an e-mail. We should get together some time.
God Bless,
Jim Crane
Posted by: Jim Crane at March 5, 2009 1:26 PM
My Brother is the best drummer I've ever seen play. From his first snare and cymbal at age 6 and his Moby Dick drum solo at LIncoln HIgh to his awesome drum solo with Mike Harrah at The Pavilion in March of 09. Chris F'n ROCKS. Love you Brother!!!!!!
http://web.me.com/ronstewart1/Bros_Drum_Solo/Chris_Stewart_on_Drums.html
Michelle, please get ahold of me!!! I'd love to hear from you.

Posted by: Ron Stewart at May 3, 2009 2:17 AM
Hey Chris, I hope everything is going great for you!! Keep us updated on your amazing drumming!!
Posted by: Anonymous at May 12, 2009 1:11 AM
Chris Stewart: By far one of the best drummers and best people that I've ever known. Hope all is well with you man. Much love.
Bryant
Posted by: Bryant Simpson at August 25, 2009 9:15 AM
Hi Chris, The most Amazing drummer in the world!!Keep us updated!! Hope everything is going great for you!
Posted by: Anonymous at November 12, 2009 12:56 AM
My family lived next to your dad, step mom and sister, in CA. I am not sure you remember me. It is awesome that you still doing what you love. I no longer live in CA. I have 3 boys, 18, 12 and 8. Take care.
Posted by: Dana Molskness at January 13, 2010 12:53 AM
Hi Chris, Your art work looks great!! Your drumming is AMAZING!!!Hope everything is going Great for you!!!
Your number #1 FAN
Posted by: Anonymous at July 3, 2010 1:15 AM
Hey chris, this is your good friend Manny Verdugo .It,s been a long time.It was great to see the zot website. you guy,s were fantastic and will always be. i have alot of great memories about zot and the syndicate playing around O.C. and when I helped you guys rody when you opened for culture club. I thought you guys were definately superior. hope you are doing O.K. Get a hold of me as I would like to here from you. mandugo63@yahoo.com also manny verdugo facebook
Posted by: Manny Verdugo at December 6, 2010 8:18 AM
Chris, Tyler Stringer from good ol' Ruby street on the Island. I recently cleaned out some stuff from my parents house and came upon this album and remembered the days of hanging out in your garage behind Robert Ziegler's house and listening to you play drums waaaaaaaaaay before the formation of Zot. Hope you are doing well. tyler@tylervision.com
Posted by: Tyler Stringer at February 8, 2011 8:39 AM
Hi Chris, I use to see you play all the time in Huntington Beach, You are by far the best drummer there is. Hope everything is going great for you!! What band are you in and were are you playing these days?
Posted by: Anonymous at September 24, 2011 5:59 AM
I just decided to look up on Youtube for Uranium...so cool to see the group again. So sad to hear about Pat. He was a good man. Glad to hear you're doing well. I'm local in Fountain Valley. Still married to Jim and we have 2 kids...Julia (15) and Atticus (10)...Love the art. I'm doing art as well...Catperryart.com Check it out sometime.
Take care, Cat
Posted by: Cat Perry at January 10, 2012 12:09 AM
Hey Chris, its been a long time how are you doing? Are you still playin?
Posted by: Brian Stoner at February 23, 2012 11:18 PM
Chris, Marry Christmas From all the Griest's
God Bless, p.s. Keep listening to the holy Spirit
With love Randy Wayne

Posted by: Randy Wayne at December 25, 2012 3:15 AM
I have some great photos taken by the photographer (Dale) who took the photo you have on the main page. I have great memories of Zot and the summer of 1985 and their great music that I will never forget. It propelled me on to work in music and radio where I am still currently employed. Let me know if you want the pictures ! I have Deja Vu free tuesday passes too :) :) Lol. And Pat's (who will forever rock in my heart) all access pass from the Night of Culture Club opening if anyone from his family would like it, let me know. Oh and a few "behind the scenes" pix that I would only give to randy out of respect to him and his family...they might get a kick out of them :)thanks, Michelle
Posted by: Michelle Hobson at February 26, 2013 1:37 PM
Hi Chris,
Hope your life is going awesome.
It's been close to 30 years - Scary- since I've seen you or your brother Ron.. It seems like yesterday and yes I still look 16 .lol.
You both have a huge piece of my heart and I think of you two often.
Love and Happiness
Michele

Posted by: Anonymous at June 6, 2013 7:53 AM
Post a comment